By working as a project consultant on projects of different scales across the Construction and the Oil & Gas industries, I have encountered and learned how to address numerous obstacles that can significantly obstruct the processes of scheduling and managing complex projects.
In my long-year experience, I have been helping companies to implement practical project management tools and adopt effective techniques and procedures that bring better project results.
One of the most common difficulty that companies have been facing was maintaining "effective project communication".
For example, a large number of them that were initially having trouble in communicating schedule information found project viewing applications such as ScheduleReader to be very beneficial.
ScheduleReader is software that is applicable to small and large scale projects and portfolio oriented enterprise corporations working with state of the art software such as the Oracle Primavera suite.
Essentially this useful tool modernizes the way project participants view the information in project schedules, by allowing all users to dynamically display and interact with the data from schedule files.
As opposed to the alternative way where many companies share such information through PDF files and on paper, I have witnessed that adopting this software has greatly helped improve the end results and shorten the delivery time of their projects. 
But in this piece of writing, I will not talk particularly about this tool for viewing project files exported from the Oracle Primavera software, as I have already written a detailed review on my blog. I will shift my attention and address one issue that comes to everyone's mind when adopting this new way of working with XER files.
Security & Confidentiality of Project Information When Sharing Data in the XER File Format
Recently, the same team standing behind the ScheduleReader software, released a new application on the market that specifically addresses this important question. The newest member of their software product portfolio named ScheduleCleaner.
ScheduleCleaner Overview
ScheduleCleaner is a Windows desktop application designed to enable users – scheduling and planning professionals to take full control of the project data contained in XER files that are being shared with project stakeholders. As the team behind the application states, the main idea for the creation of the product was finding a solution for the major concerns and issues that companies were facing when sharing data in the XER file format, which are the following:
XER files containing sensitive project data that not everyone should see
Redundant and repetitive steps when this data is removed manually
A possibility for loss of important data when modifying XER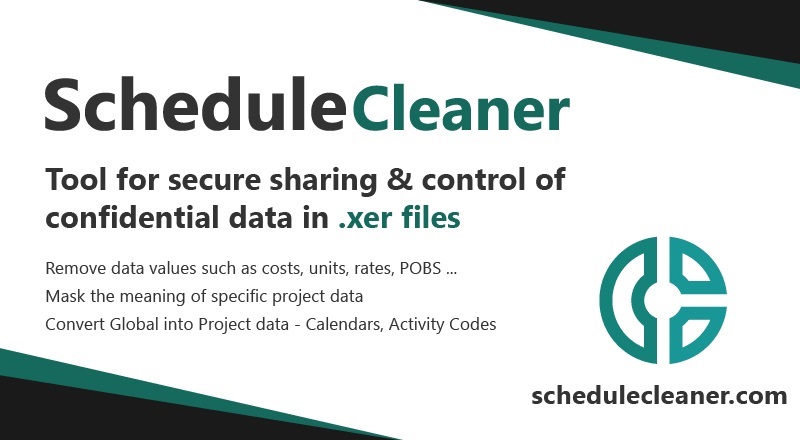 In other words, the tool refines the process of sharing project data by enabling users to quickly clean or anonymize all data in the XER files that are considered confidential, prior to sharing the file with other project participants or uploading it into a project database.
As explained on the official website, the application simplifies and automates this process, thus reduces redundant and repetitive steps by allowing users to create, save and reuse multiple templates containing different modifying settings that can be applied to a single or group (Batch Clean) of XER files.
In addition to the functionality for data removal, users also have the ability to conceal the meaning of certain project data, i.e. make the confidential project data more difficult or even impossible for others to understand.
ScheduleCleaner Benefits
ScheduleCleaner brings numerous benefits to the project, the schedulers and the company from various aspects. It:
Ensures the schedule integrity and data security when sharing XER files with contractors and other stakeholders;
Saves the scheduler's time spent on manually cleaning XER files;
Avoids a database pile-up with unwanted data within the XER files;
Reduces intermediary database maintenance and investment costs.
ScheduleCleaner works in the following way: when cleaning XER files, it produces a filtered copy of the schedule which can be further shared with various project stakeholders – an approach which ensures that the receiving party has access to project information only found necessary for performing their duties while all other confidential data within the project schedule remains visible solely to the owner of the original XER file.
If you are interested in learning more about this solution you can contact ScheduleCleaner's team and request a personal online – demo presentation, a free trial and more through the following link: https://schedulecleaner.com/book-a-demo.
The Bottom Line
ScheduleCleaner is an application that allows all project participants, including project schedulers, planners and contractors to remove or make anonymous the confidential data within the XER project files. With this desktop application, users are able to remove values for different project data categories in the XER project files such as costs, units, rates, POBS and more.
With ScheduleCleaner, project participants, specifically, project planners and schedulers can control which data is shared within and outside a particular organization. In this process, they can ensure that when sharing  XER files with project contractors and stakeholders, the file will contain only the data you wish the other party to see.
Companies that can integrate both ScheduleReader and ScheduleCleaner in addition to their Oracle Primavera software on their projects will be able to archive secure and better communication that will lead to getting projects done on time and within budget.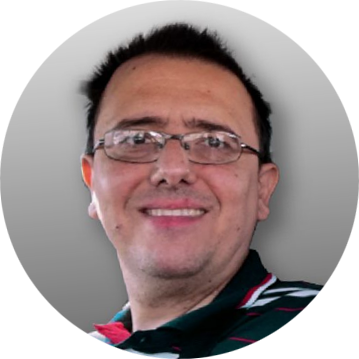 Ljubisha Mladenovski is a skilled Product Analyst, with 15 years' experience in developing Project Management software. Strong business development professional, skilled in Business Analysis, Project Management applications, and Agile Methodologies.